"I've accepted that this baby might decide to just stay in there for the next two weeks. Or not, but it probably will, just to spite me and my exhausted uterus."
I was a day past my due date and showing no signs of labor, hadn't even felt a Braxton-Hicks contraction in over a week. My girls were born at 40 and 41 weeks and after a seriously draining, painful pregnancy, I was trying to mentally prepare for the possibility of staying pregnant through to 42 weeks. A bit pessimistic, sure, but whatever. It was 10:30pm on March 4th and I'd spent the last 4 hours with a baby head wedged so far into my nether region that I was having to alternate between sitting with my legs stretched out until they would fall asleep from the lack of blood flow and then pull them up under me until the pressure on my cervix made me cranky and then switch again. I was SO over the whole thing, but trying to not be…
Approximately 3 minutes later, I shifted my position and I felt some weird wetness. Shifted again and felt a definite POP, followed by a unpleasant gush and I flew off my couch, yanked down my yoga pants and yelled at James "oh, my God! My water totally just broke, LOOK!"
To his credit, he responded with a calm "hm, okay" and seemed completely unbothered that I was suddenly half-naked, waddling to the bathroom with my pants around my ankles and holding a towel between my legs. I think that's probably why our relationship works so well, actually. Then I called my midwife while he got up, washed the dishes leftover from dinner and went around tidying up the house so I wouldn't be worrying about dirty laundry on the floor during labor. The man knows my love language, and it's chores. Bless.
I hadn't felt any contractions yet so we were hoping to get a bit of rest before things started up. We crawled into bed around 11 and I put in my headphones and started listening to my Hypnobabies birth affirmations track. Contractions started around midnight and were about 10 minutes apart. They weren't painful and mostly felt like pressure for the most part so I stayed in bed until around 1:30 or so, when I woke up James to let him know I was going downstairs. They were about 6 minutes apart and moving closer together every contraction so I wanted to be up and moving to encourage the baby to move down into position. I let everyone involved in the birth know to start heading over. James snapped this picture and it's the last shot of my big belly that I have!




Then he went upstairs to start filling up the birth tub we'd set up in our guest room.
Okay. Let me take a minute to gush about this room. A group of my awesome friends threw me a wonderful mama blessing and I was able to take the things they made for me and turn our blah little guest room into a sweet, calming birth space. I love it. I gave birth to Juliet in the middle of our living room at our last house so this felt a bit more focused and special, with the personal touches and candlelight.
I hung the birth affirmations that they all wrote out for me underneath a mobile made with strands of beads that they each put together.




They each decorated a votive to hold candles to light and remind me of their support during my labor. Violet drew a picture of what she called a "circle rainbow" and had me write a note on it to hang on the wall over the tub. There were candles hanging on the walls and it was just very sweet and cozy.




I love it. Anyway, that's the end of my tangent.
By 2am my contractions were about 3 minutes apart, everyone was on their way and I was slowly wandering around my living room doing a full-on labor dance. Lots of hip swaying and slow breathing and quiet hmmmmm'ing through them. James was still working on filling the tub but he'd check in with me every few minutes and massage my back, which was sweet. My midwife and her assistant showed up together at some point and it made it feel like, okay! Let's have a baby tonight! My contractions were still not very painful and I felt comfortably in control of them. They were moving consistently closer and closer together so as soon as the tub was ready, I waited for a contraction to end and had James help me hurry up the stairs before the next one began. My little birth room was all cozy and candlelit and I was getting excited to get this baby out!
By this point, my contractions were coming very close together and I was starting to feel a low pressure that I knew was the baby's head descending so woohoo, transition! Getting to the exciting part!
At the peak of each contraction, the muscles in my lower half began to seize up but, unfortunately, not like my body was trying to push. I started to hang on James and try to relax my muscles by basically sticking out my butt, arching my back and making big hip circles. It seemed to work because after a few contractions like that, my muscles stopped clenching up and my body naturally started pushing. So, into the tub with me!
Mmmmmm. Such a great feeling, getting into the warm water!


My contractions felt like they slowed down a little bit once I got into the water but I was actively pushing through each one. After a few, I remember thinking "this is seriously ineffective pushing, nothing's happening!" Which of course wasn't true, I was just spoiled from Juliet, who shot out with hardly any effort. This one just took a little more work!
Baby descended into the birth canal, which is probably the only part of this labor that I would say felt "painful" and it was just from the stretching and pressure. I also began to feel a bit overheated and nauseous, what with the hot water and candles and lots of people in a little bitty room. Cold compresses helped but mostly, I wanted to get my baby out because I knew that would make the rest of it go away!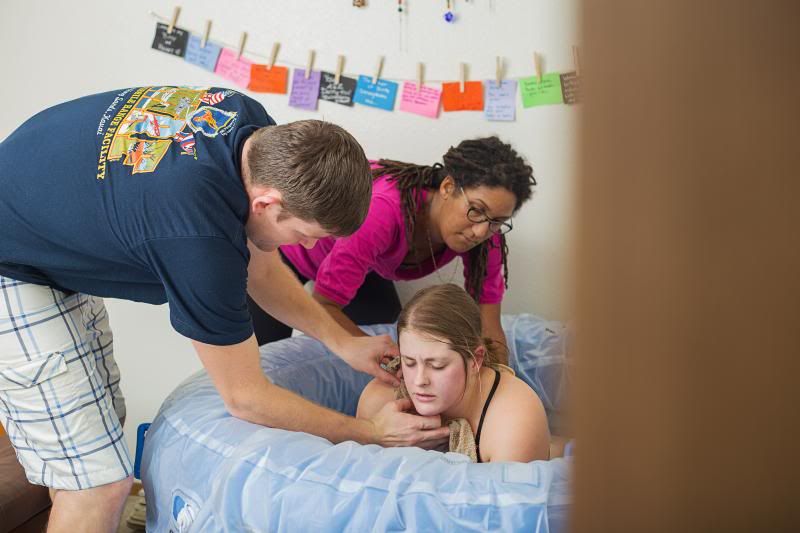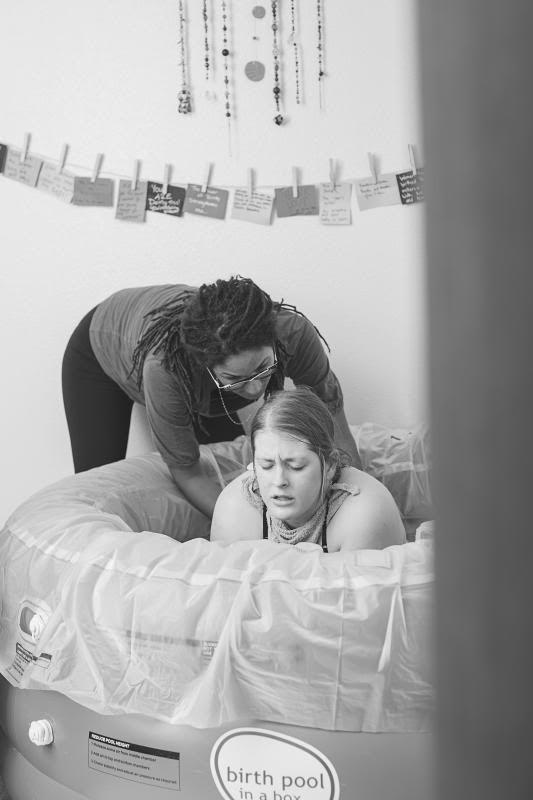 I could feel that the baby was close to crowning so I reached down to do some counter-pressure and wait for the head. James asked if he should go get Violet since she wanted to be there to meet the baby and I nodded, so he went to wake her up. He carried her in, looking sleepy and a bit disoriented.


I pushed and out came the head. Pushed a few more times and out came the baby!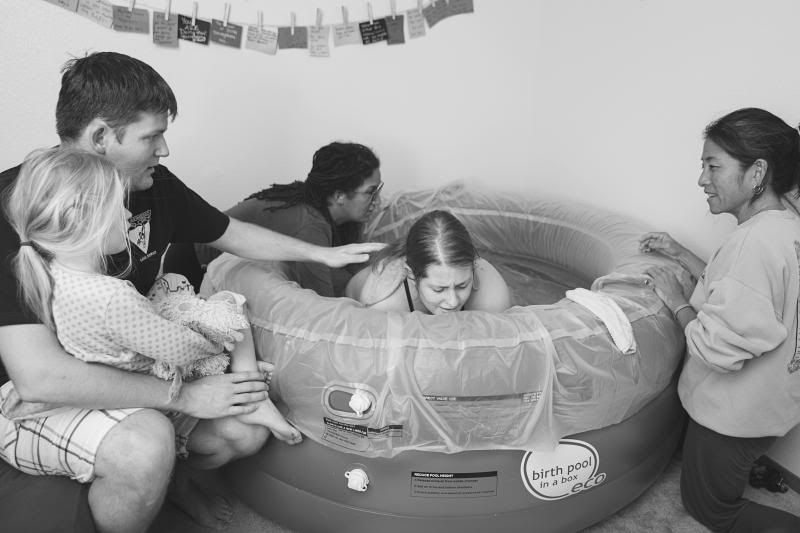 I very distinctly remember looking down and seeing this sweet little face, eyes wide open, looking up at me through the water. I was feeling a bit overwhelmed and thinking "I just need a second to process this!" so I took a few moments to breathe and cry and just look before pulling the baby up onto my chest. Look at this sweet face!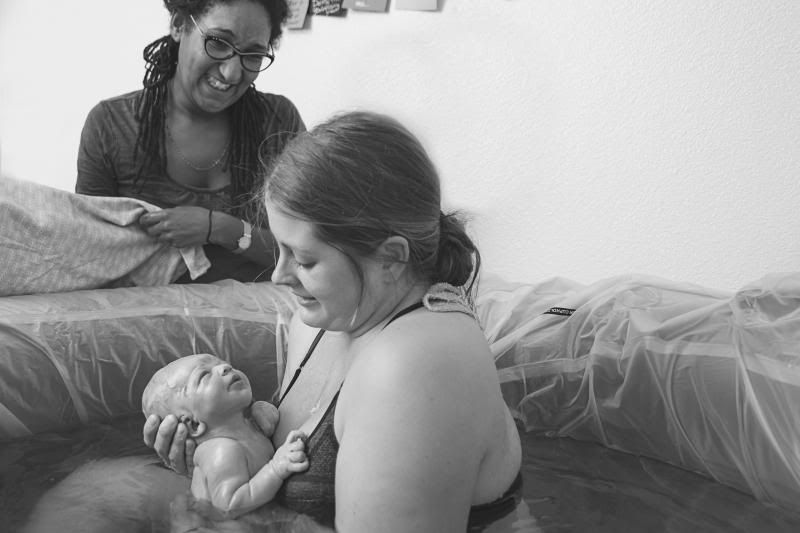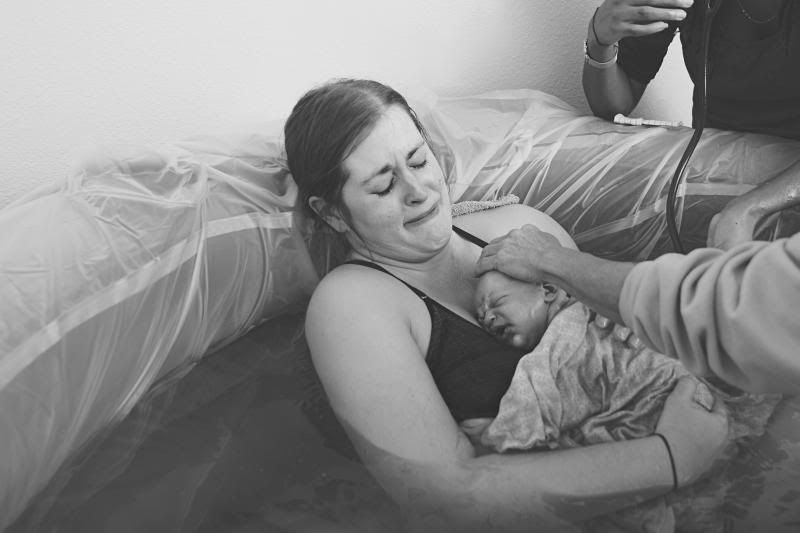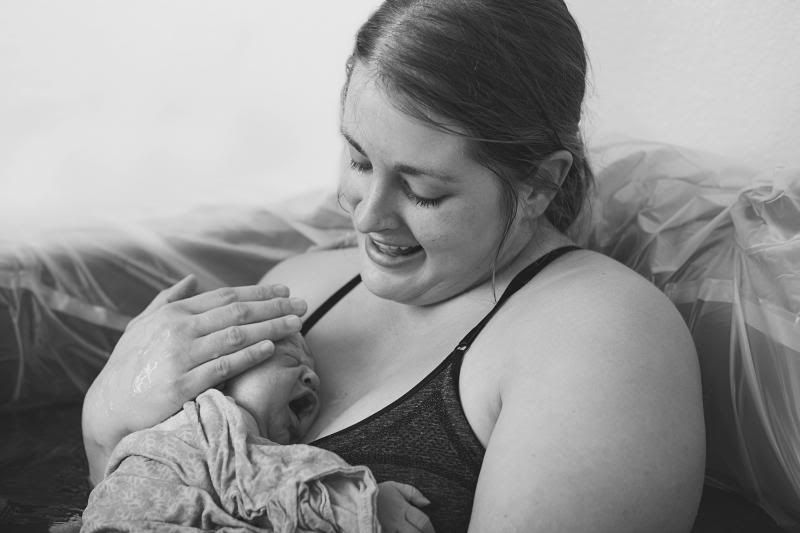 So unbelievably mellow! Cried for just a moment and then just snuggled on my chest, looking around and taking everything in. I cried more than the baby did!
A few minutes went by and it didn't occur to me to check what gender the baby was because I was still completely absorbed with just looking at that cute little face. I mean, look at that! Adorable.


I had originally wanted James to be the one to find out the baby's gender since I had done so with Juliet but when I repositioned my hand to feel for the umbilical cord, it was too tempting to not nudge around and find out for myself. It's a boy! I did peek a few minutes later to double-check and yep, totally a boy! Our photographer captured James' expression right when I announced it.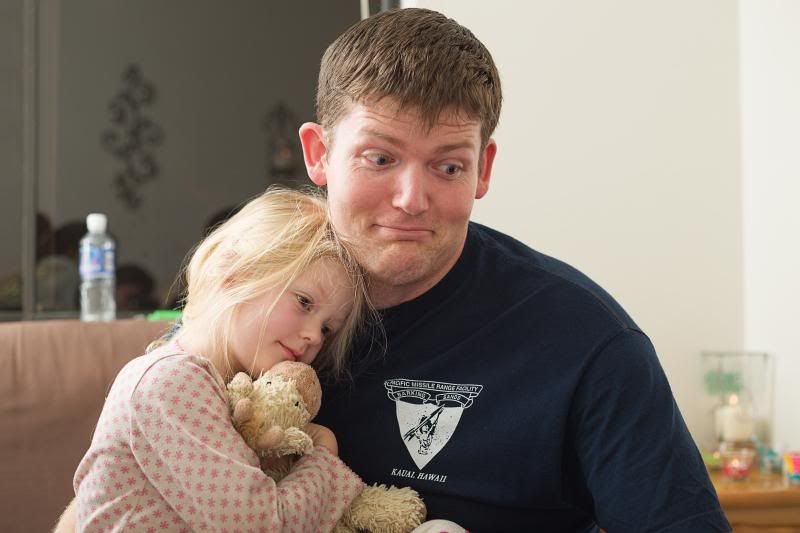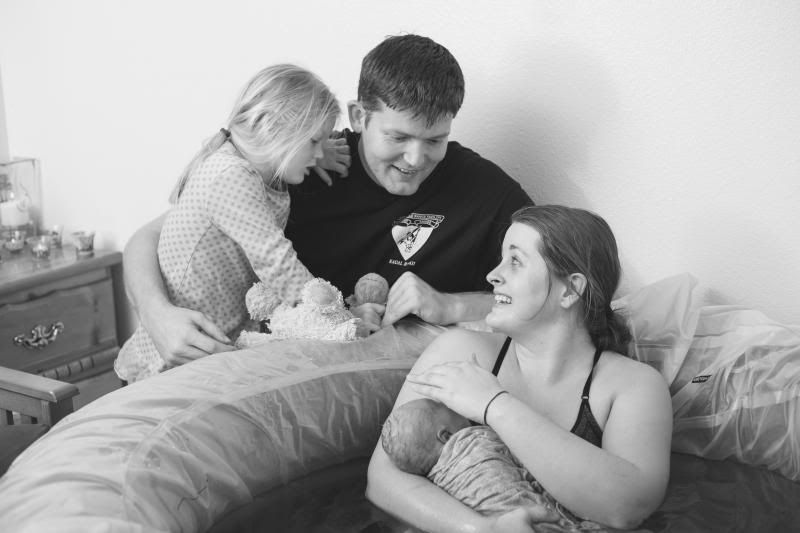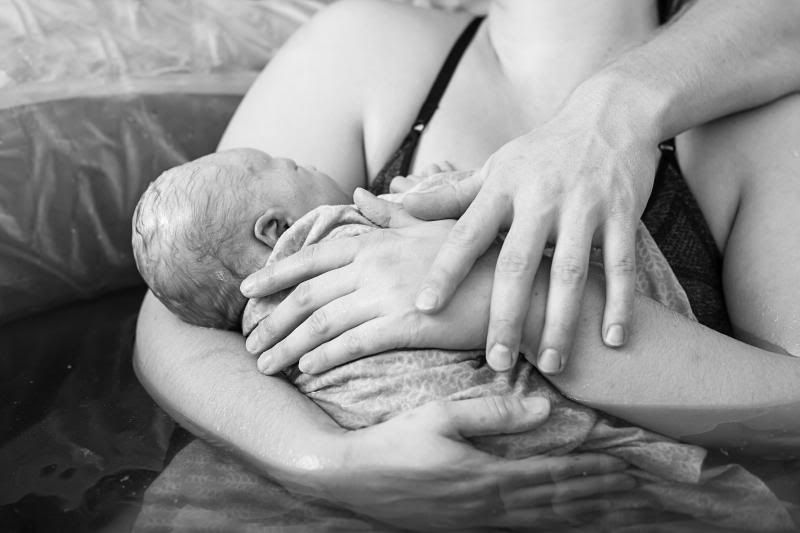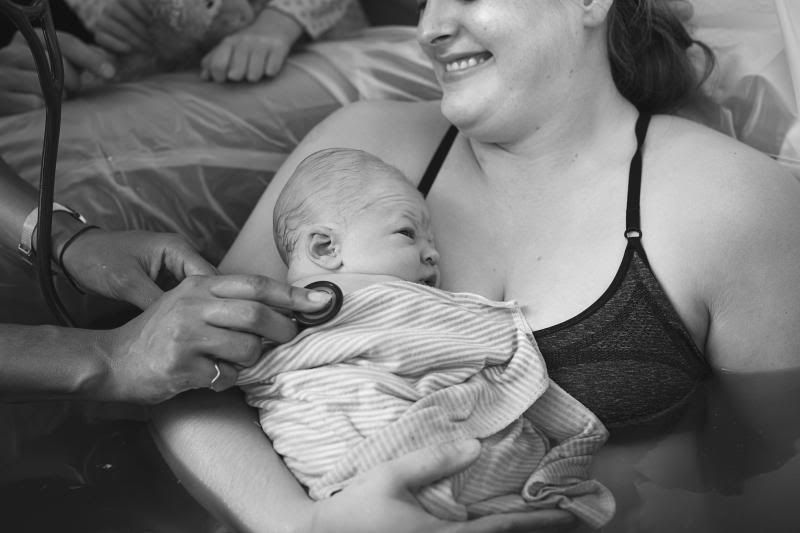 Violet had been very interested in learning about umbilical cords and placentas during our conversations during the pregnancy so she asked to see the cord. She touched it with one tentative finger and then gently put her hand on the baby's head. And although she'd been saying that she wanted a baby sister, she told me she was really happy that the baby was finally here.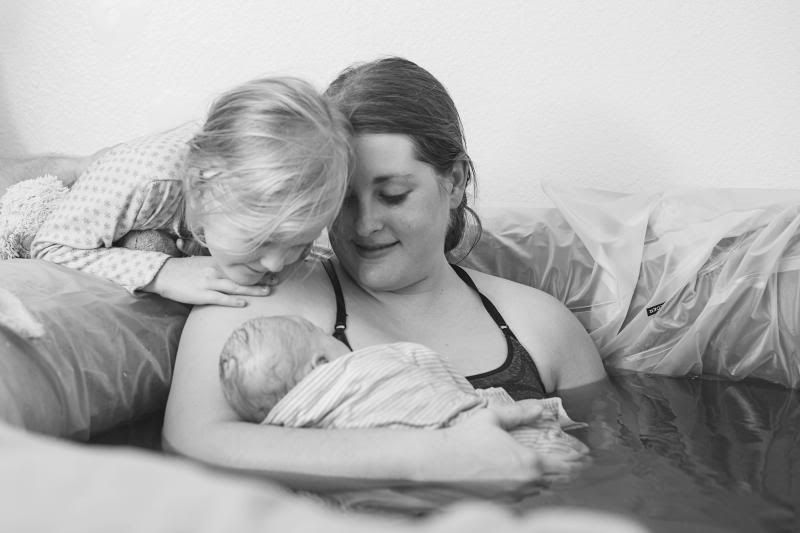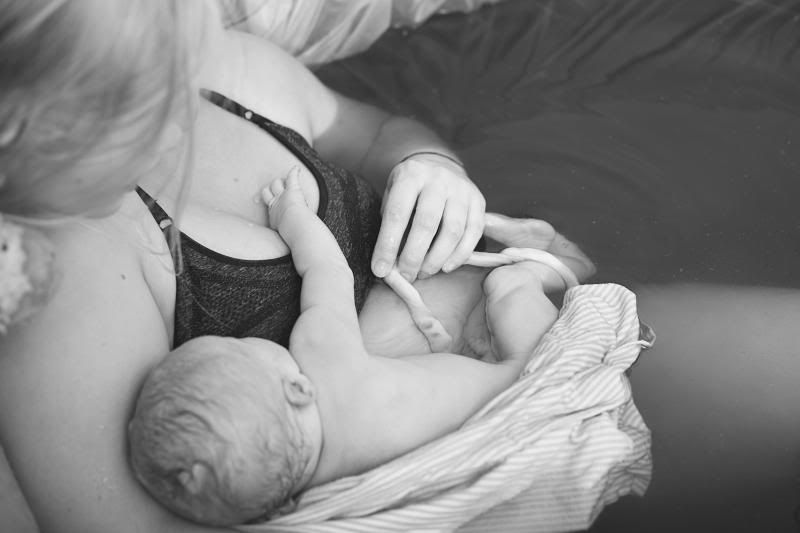 She decided not to help cut the cord once it stopped pulsing, probably because the baby started fussing when we moved his blanket and leaned him backwards, but she watched the whole process very closely. He started rooting so I let him nurse and he latched on perfectly.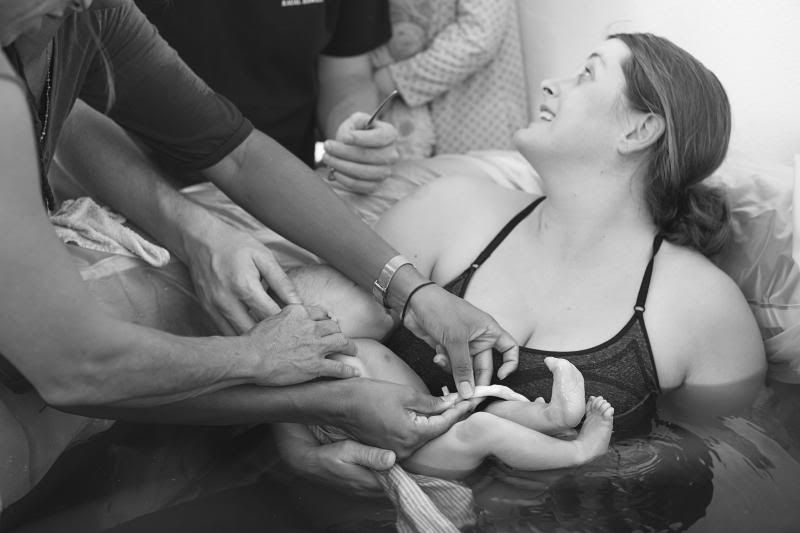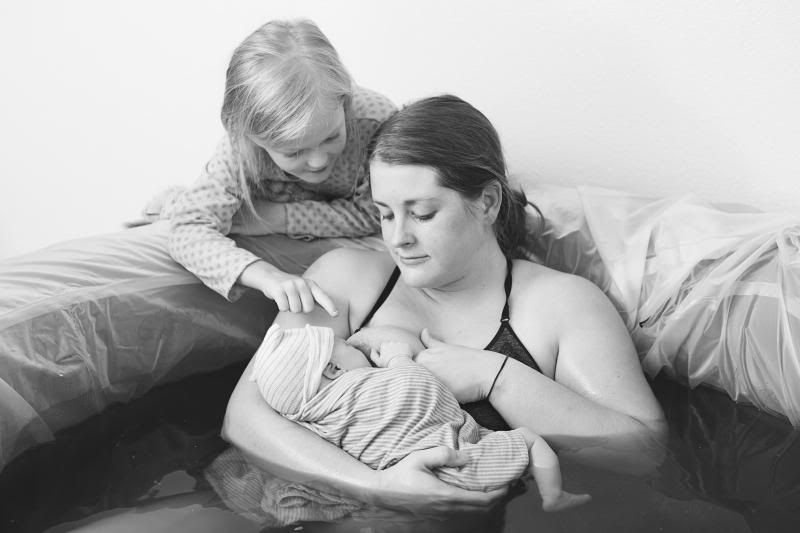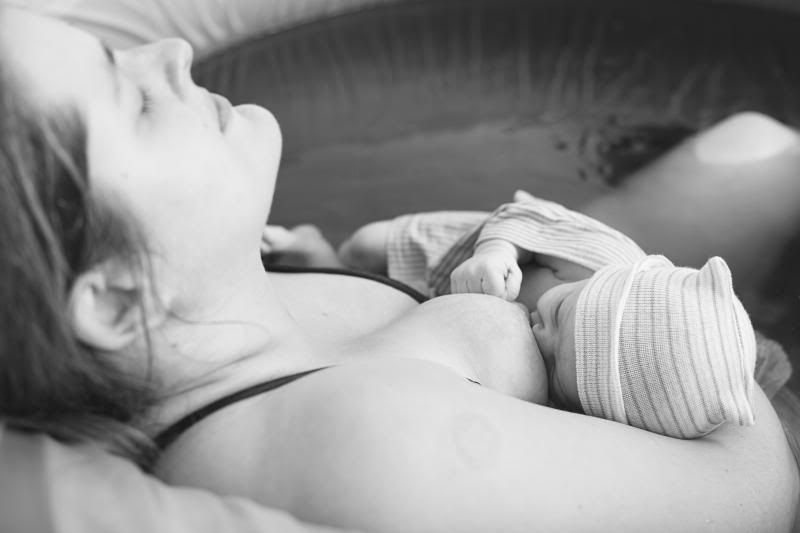 After a little while, the baby was passed up for some skin-to-skin with James while I delivered the placenta and got out of the tub.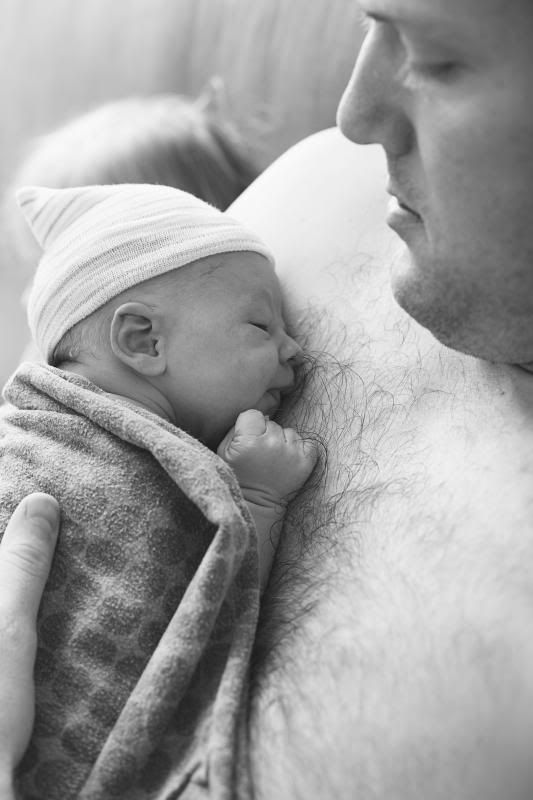 Around this time, a newly-made Big Sister woke up and came to see what the fuss was all about!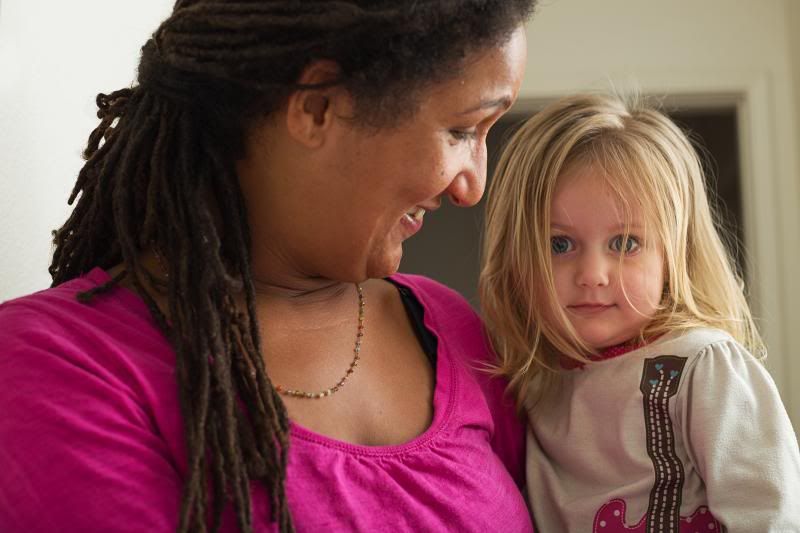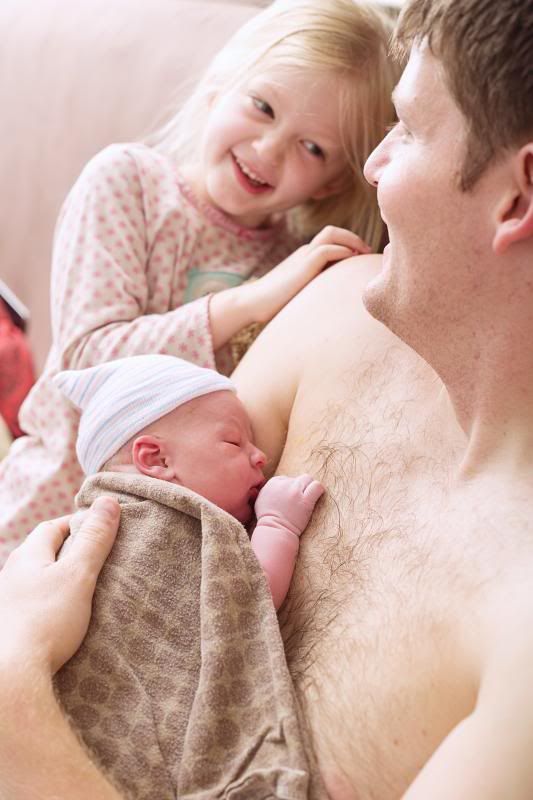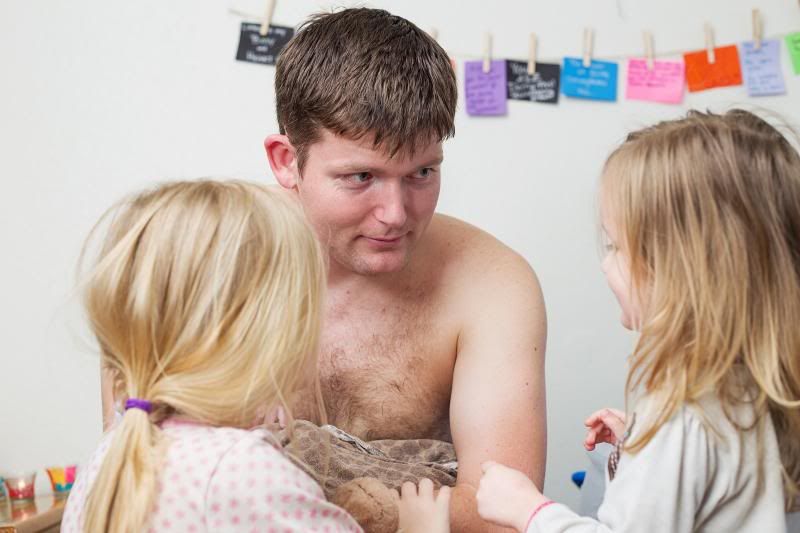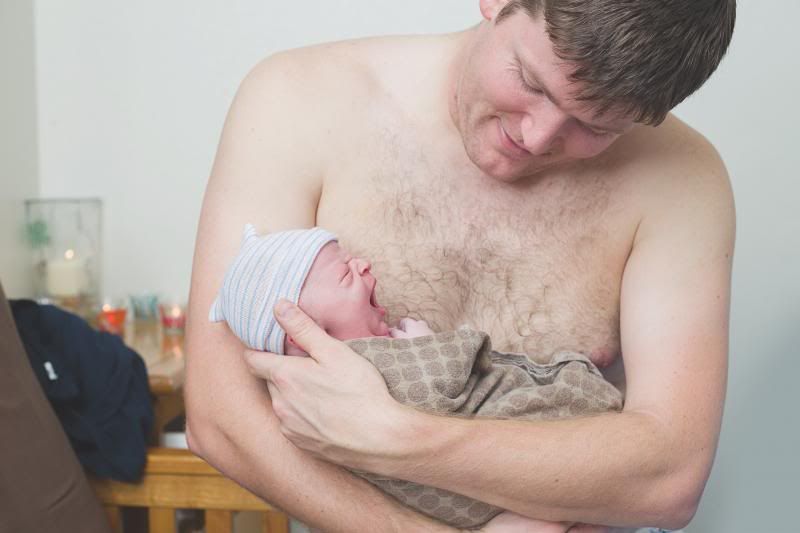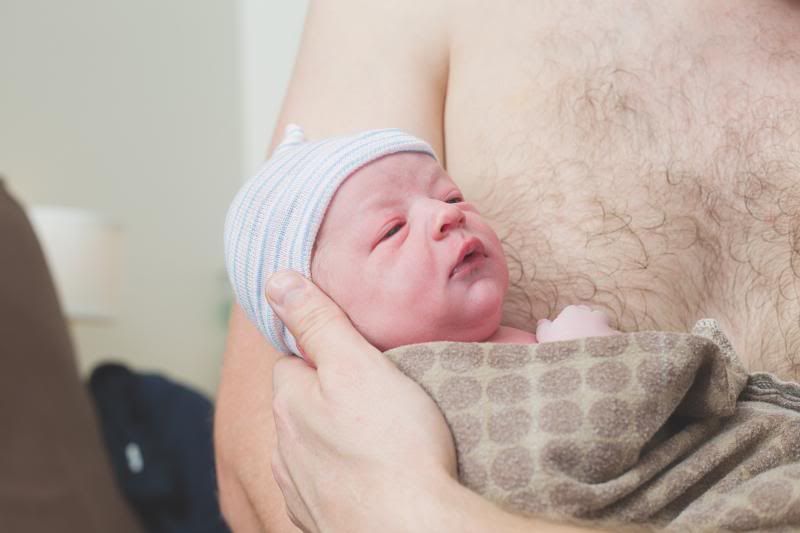 Once that was all taken care of, I walked with my midwife down the hall to my bedroom to change clothes and get into bed. She actually got a little stern with me and told me to take it easy because I had been speed-walking my way to my room and she didn't want me to over-exert myself. But I was blissfully enjoying that natural birth oxytocin high and James had been holding the baby for about 20 minutes by then and I wanted him BACK!

We snuggled and nursed some more, he was weighed and measured and my midwife did his newborn exam.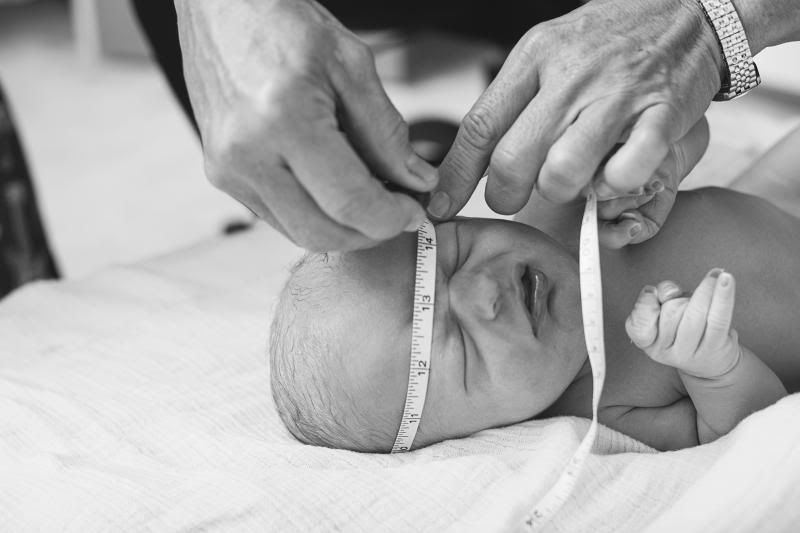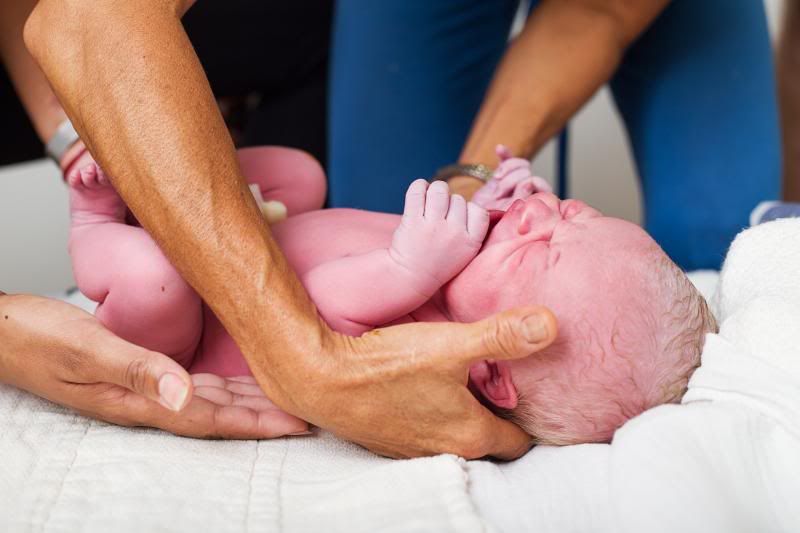 So pink and new! James got to handle the first diaper and outfit.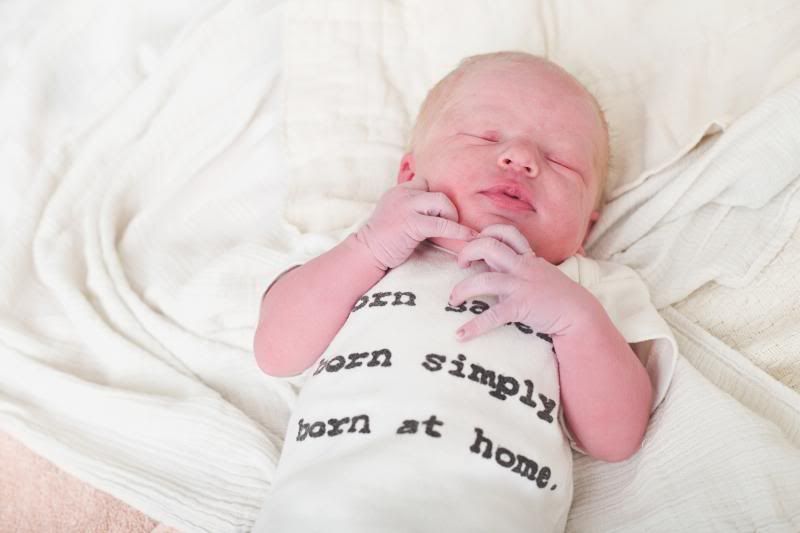 The same shirt Juliet wore when she was born!




Each of the girls came in to see him, although we couldn't get them to come in together for a family photo, alas! A good friend of mine came to be with us during the birth to help take care of the girls and periodically I'd hear them playing and reading books together across the hall. It was nice to know that they were getting some special attention while we were busy with their new little brother!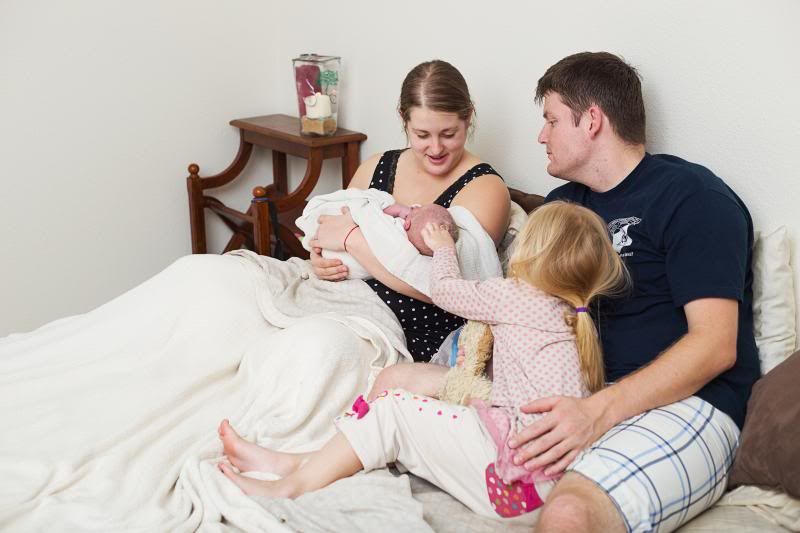 After everything was cleaned and packed up and sorted and the baby and I had been checked and loved on and tucked into bed, everyone else began to slowly clear out and eventually it was just our new little family of 5 left! I curled up and took a nice, long nap with Asher around 7 while James took the girls downstairs for breakfast. They never did go back to bed, although Violet finally crashed around 11 and Juliet managed to fight her sleepiness until almost 1. And so we started our first day with our new little one!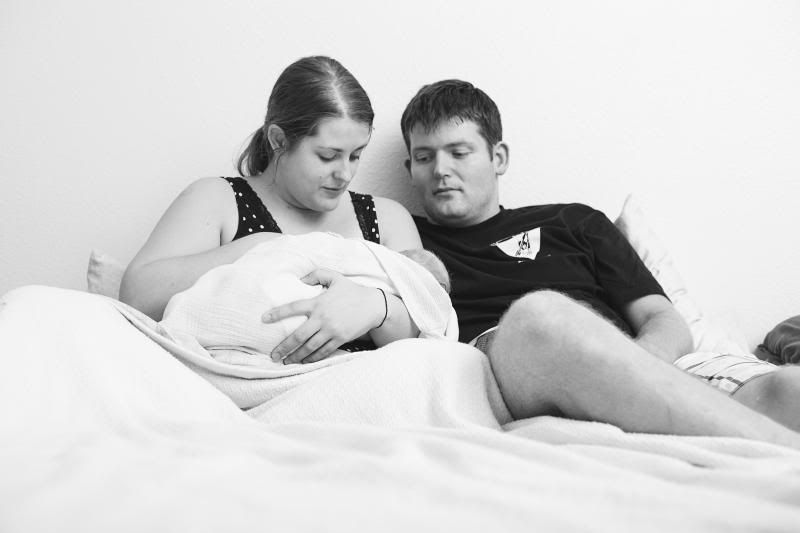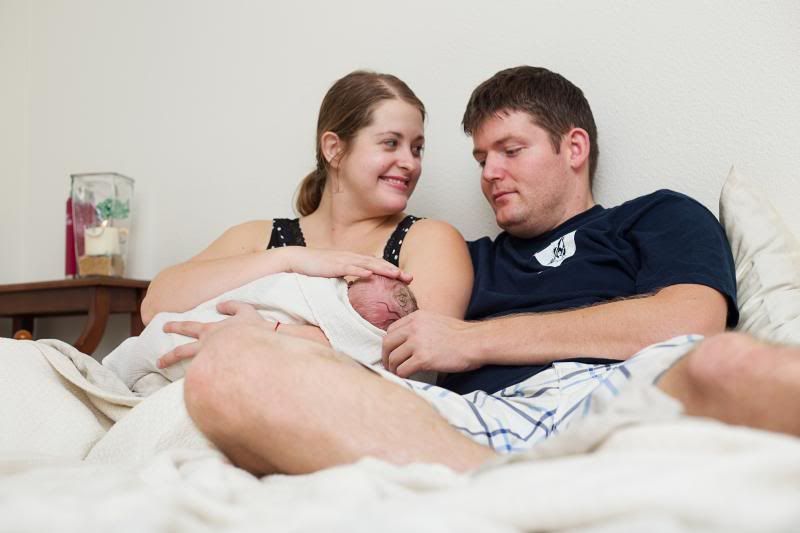 Asher James Blacklaw
arrived March 5th, 2014
at 3:37 am
8 pounds 6 ounces
22 inches long
born in our home ❤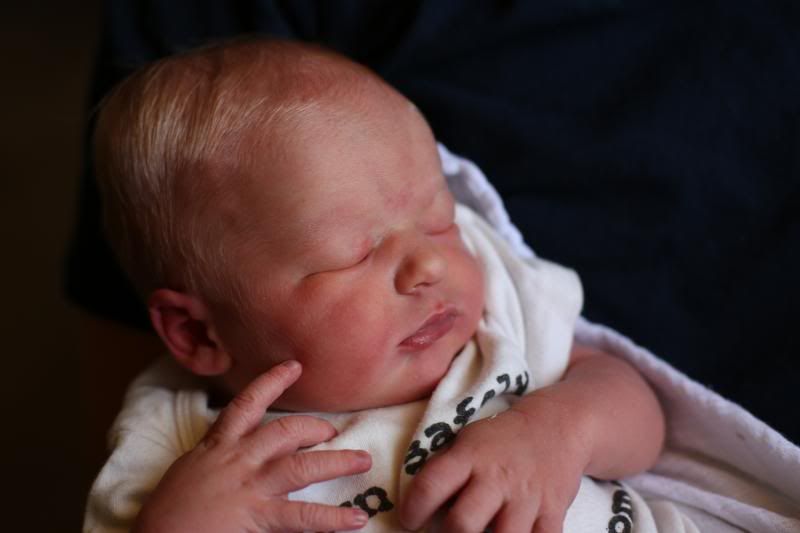 In case you're not birth-ed out yet, here's a short video I threw together with some of the footage that we got from the labor and delivery.



And in case you are in a birth story-readin' mood, here's the photo story of Juliet's birth from 2011!